経口固形(OSD)製品向け
栄養食品・健康食品用設備
シンテゴンは、ビタミン、漢方薬、栄養補助食品、プレ/プロバイオティクス製品市場向けに、混合・造粒・細粒のコーティング・ホットメルトコーティング・ペレットコーティング・打錠・錠剤コーティング・カプセル充填など、幅広い分野でお客様をサポートします。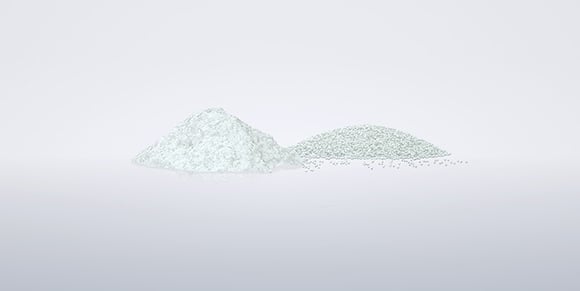 当社の造粒設備では、打錠やカプセル充填工程で求められる流動性や密度など、後工程の要件を満たす製品を確実に生産します。例えば、スティックパック製品に対する厳しい粒度分布規格、味のマスキングのための表面の平滑性、ホットメルトまたは天然/半天然/合成ポリマーコーティングによる放出制御などの要件に対応します。当社は流動層設備や撹拌造粒機を用いた湿式造粒においてお客様をサポートします。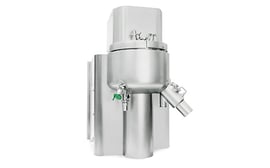 撹拌造粒機
均一な混合、最高品質の造粒、最高の性能と高速乾燥 - 実績あるヒュットリンの設備をお試しください。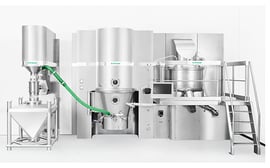 流動層システム
乾燥・造粒・コーティングにおける高度な要求に応えるヒュットリンの流動層設備を提供します。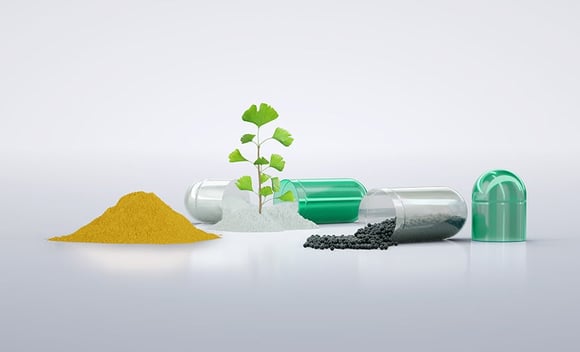 多くのメーカーが参入し、競争が激しい栄養補助食品市場では他社との差別化が極めて重要です。ハードカプセル充填製品は、ユニークな製品が生まれる可能性が大きく、ブランド認知の確立に貢献します。さらに、色や外観(粗面、光沢、透明など)、印刷などにより、魅力的で人を引き付ける製品の開発が可能です。
天然由来の製品を加工する場合、バッチごとの違いや品質のばらつきが生じる可能性があります。製品特性とそれに影響を及ぼす工程パラメーターを理解することは、充填プロセスの成功の鍵となります。私たちは幅広い製品評価・分析ツールを提供し、カプセル充填機で「工程開発の自動化(APD)」アプローチを採用することにより、高品質製品の生産に必要な知識を提供します。カプセルへの充填が困難な製品の場合は、粉末を造粒する等の対応策を提案します。粉末の安定性とバイオアベイラビリティの改善、溶出プロファイルや外観の変更も可能です。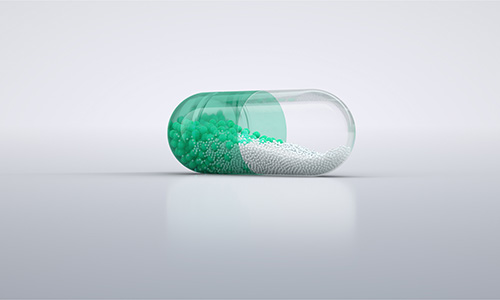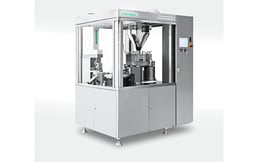 GKF Capsylonシリーズ
栄養食品・健康食品分野に特化した、効率が良く操作しやすいカプセル充填機シリーズです。粉末・ペレット・顆粒のカプセル充填に最適です。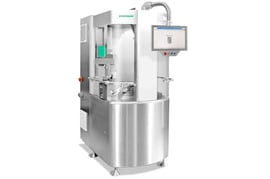 GKFセレクションシリーズ
さまざまな製品や、製品の組み合わせをハードカプセルに充填できる柔軟性と安全性に優れた最新のカプセル充填機シリーズです。
カプセル秤量器KKEシリーズ
高精度の重量測定技術と安全なカプセルハンドリングが特徴の理想的なカプセル秤量器です。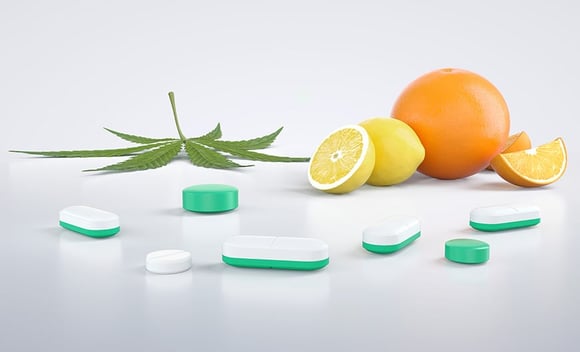 Tablets are a cost-effective and the most common form of oral solid dosage. During tablet pressing, excipients are often added to nutraceutical ingredients, e.g. lubricants or dry binders. Our tablet presses can compress the highest amount of products without granulation and reduce the need of excipients to a minimum. Our Nutra Services support your development of fully organic and clean label tablets. We can coat your tablets with a wide range of colored, natural, semi-natural or synthetic polymers for a unique marketing approach. Additional tablet coating enables taste masking, delayed release, or ingredients protection and an easy-to-swallow function. Special applications like bilayer tablets are also possible.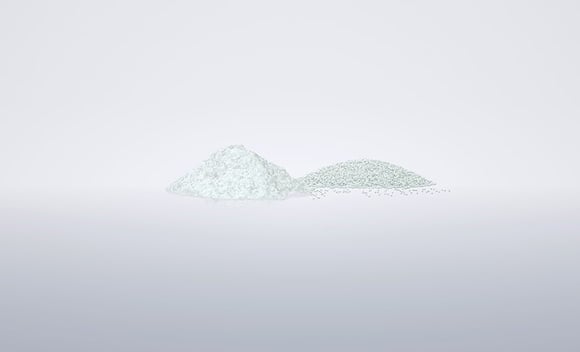 Compressing of powder & granules
---
Operators of tablet presses often have to deal with poor flow properties when processing consumer healthcare products, e.g. due to challenging compaction profiles and stickiness. The three-paddle feeder of our Syntegon TPR tablet presses supports a proper die filling process with its three level design and elongated infeed. This allows the operator to keep the feeder speed low and reduce the risk of segregation and over-blending. The low feeder speed further promotes powder entry into the die that ensures consist tablet weights. The standard two-paddle feeder design can be retrofitted and offers additional flexibility for challenging products.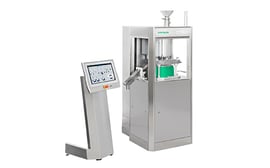 TPR tablet press series
Ideal for the compression of pharmaceutical and nutraceutical tablets ‒ from R&D and pilot use up to high volumes.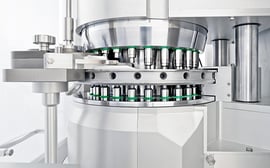 Success story: TPR tablet press for challenging natural medicines
Metagenics needed a complex tablet press capable of delivering maximum performance, yet suitable for challenging products. Curious how our Nutra Services helped?
Capsule size 000 is the biggest available capsule size on the market for human applications and is very common for certain dietary supplement target groups. Syntegon offers a special portfolio of encapsulation machines that can easily handle these large capsules for applications requiring a maximum product dose. In addition, special enlarged closing pins support proper and gentle closing of the filled 000 capsules.

The following capsule filling machines can be equipped with 000:
Does your current capsule filling process come with statistical control, but needs a 100 % weight check for capsule sorting, including the removal of empty capsules? Or do you just want to play it safe and provide high-quality sorted capsule products to your customers? Then we recommend the use of our Nutra KKE. With its weighing accuracy of +/- 5 mg it is our solution for a cost-effective 100 % capsule weight control in the nutrition and healthcare market. The units can be run in-line or off-line and achieve outputs of up to 232,200 capsules per hour. Need even higher accuracy? Challenge us!
As a result of the BSE cases in the 1990s, the alternative plant-based Hydroxypropylmethylcellulose (HPMC) capsules were born. Demand for capsules of non-animal origin has been increasing ever since, especially in the nutraceutical market, where they have become the standard for dietary supplements. Additional vegan/vegetarian varieties have been introduced to the market. However, different capsule materials lead to different properties (e.g. shape, pre-closing forces, size tolerances) – a challenge when launching a new type of capsule. Thanks to constant improvement and long-standing partnerships with capsule vendors, we have solved many issues and run the widest range of capsule types at the highest level of quality and machine performance.
Final filling weights are among the quality attributes to meet the label claim. Capsule sizes 0/0el and 00/00el filled to the maximum are quite common, since high fill weights enable high contents of nutraceutical ingredient, and make the final product easy to swallow. However, overfilling may lead to improperly closed capsules and/or capsule damage during the closing process. Our patented slide-gate technology keeps product loss to a minimum and improves stable slug formation. Syntegon also offers capsule fillers that support the dosing of slugs that protrude over the lower capsule body, by mounting the capsule closing station directly after the powder filling station. This reduces the potential for slug disintegration and powder loss before capsule closing.
You have a successful product but you can't meet the market demand? Then it's time to increase your productivity! If you have worked with semi-automatic equipment, we can help you transfer your product to a full-automated capsule filling machine. The first step consists in analyzing your product characteristics with our lab equipment. Based on your final product specifications, we will propose the optimal processing set-up that best suits all your capsule filling requirements. We can also support you in shifting from external contract manufacturing to in-house production. We will share our experience and knowledge until you get the product running successfully in your facility.
"Won't work doesn't exist! There's always a solution you just have to find it." This is the task of our Nutra Services. We have over 50 years of expertise with OSD forms and almost all of the most common and difficult products. While many products can be processed without major evaluation efforts, some require additional features and machine upgrades to overcome the special characteristics of "challenging" products. We can help remedy poor flowability, stickiness, electrostatics, or temperature sensitivity. We also have the right solution for increasing bioavailability, extending shelf life, changing resolution, improved user experience, all-organic clean label products, or any other unique idea you may have.
Looking at the following benefits, it was no question for us to integrate the "slide-gate" system as standard for most of our capsule fillers and strongly encourage the upgrade on those systems where it is still optional.
Less shear forces; gentle product processing
Reduction of product loss; increased yield
Higher filling accuracy
Less dust formation
Less cleaning effort; more production time (OEE)
Higher machine speeds
Improved filling of sensitive and adhesive products
Improved filling of powder that does not form compact slug
Powder or pellet filling via dosing disc on the same filling station
Our slide-gate technology allows you to run a wider spectrum of products with greater efficiency and quality.
Instead of filling one single active nutritional ingredient (powder, pellet, minitablet, liquid, etc), multiple dosage forms can easily be combined with the right equipment. This provides many new opportunities: restart the lifecycle of an existing product, attract a bigger consumer group, stand out from the crowd, provide a more visually appealing and interesting product from a marketing standpoint, combine actives to enhance effects; improve bioavailability. You can even combine existing single dosage form capsule and tablet products into a single capsule. There are no limits to your ingenuity – and we will be happy to support you in evaluating the feasibility of your ideas, and advise you on suitable equipment.
Large dimension tablets are among the classic nutritional supplements. However, manufacturing is not as simple as it seems. Larger sized tablets tend to stick, which can lead to high ejection forces, especially when no lubricants are added to the formulation. Additionally, effervescent tablets must deal with environmental conditions (e.g. humidity) during the manufacturing and packaging process. An external lubrication system on the tablet press can control high ejection forces and only allows lubrication on surfaces in minor concentrations. This reduces wear and tear of tooling and cams, and improves output rates. We offer you lubrication systems that can be connected to our tablet pressing equipment and are happy to support you in defining the right process attributes.
Our intention in equipment development is to keep things as simple as possible, both for operation and cleaning. It is worth taking a closer look at our state-of-the-art design for our granulation, pellet and fine particle coating, capsule filling machines, tablet presses and tablet coaters. They are robust in both parts and technology, and simple for those who work with the equipment. You will be amazed which amount of time you can save, especially in set-up and cleaning, compared to other machines on the market. We invite you to convince yourself by setting up a hands-on practice sessions at one of our Customer Centers.
Finding skilled personnel to operate your nutritional manufacturing process can be challenging. However, reliable staff is key for trouble-free production. The process quality of the best equipment can only be as good as the operator in front of the machine. Know-how in preventive maintenance and in treating tooling/change parts properly is important to keep equipment in immaculate condition and ensure a long lifecycle with the lowest cost of ownership. We offer a broad spectrum of training services, either in our Customer Centers (hands-on training) or at your manufacturing site.
Sometimes it is difficult to differentiate between nutraceutical and pharmaceutical products. The same nutri-ingredient can be run under a food category or as medicine with stricter regulations, based on its licensing. While expectations for nutraceuticals are increasing, more and more proof of product safety and reproducibility of manufacturing processes is required. One important prerequisite to fulfill the increasing requirements is the use of qualified up-to-date equipment. Our equipment for granulation, encapsulation and tablet pressing fulfills the requirements for pharmaceutical production, especially in terms of cleanability and data acquisition. It allows manufacturing according to GMP requirements. Syntegon offers you the highest quality equipment – for both industries.
https://www.syntegon.com/hubfs/05_website/Content/1-Solutions/4-More/Nutraceuticals/03-Nutrition-and-health-products/Syntegon_Broschure_GKF_705_JP_2022_updated.pdf|Syntegon_Broschure_GKF_705_JP_2022_updated https://www.syntegon.com/hubfs/Content/1-Solutions/4-More/Nutraceuticals/03-Nutrition-and-health-products/SYN_TPR_All_In_One_Product_Brochure.pdf|SYN_TPR_All_In_One_Product_Brochure https://www.syntegon.com/hubfs/Content/1-Solutions/4-More/Nutraceuticals/03-Nutrition-and-health-products/SYN_KKE_Series_Nutra_Flyer.pdf|SYN_KKE_Series_Nutra_Flyer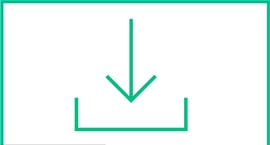 GKF 705 Capsylon
製薬・健食業界において最も理想的な 全自動ハードカプセル充填機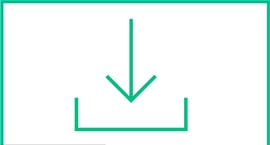 TPR tablet press series
Ideal for the tablet compression of pharmaceutical and nutraceutical products – from R&D and pilot use to high volumes.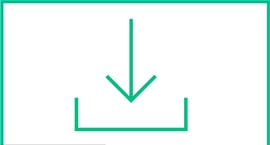 KKE capsule checkweighing series
The precise gravimetric weighing technology and safe capsule handling make the KKE series the ideal choice for your capsule checkweighing needs.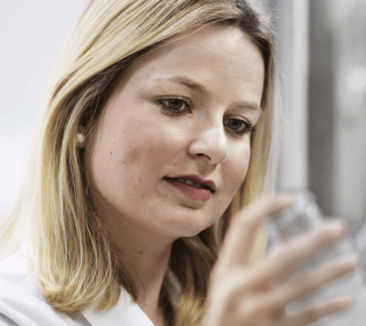 シンテゴンの取り組み
「持続可能性、効率性、デジタル化、安全性、柔軟性」は、産業における重要なトレンドです。 私たちは自社の技術やノウハウを活用して、これらの課題に対する解決策を開発し、未来の製造業を形作っています。